May you wear My Peace Belt in Health and Peace.
Peace never goes out of style.
My Peace Belt is proudly made in the USA
The Buckle:
Sand-cast brass with polished sand finish have substantial feel at 3.2 oz. Each buckle is unique, and all measure approximately 2.5 x 2.9 inches. Buckles are hand cast in sand molds in Connecticut.
The Belt:
The Black and Chestnut belts are harness leather, top grain 9-10 oz. factory dyed cowhide, 1.5 inches in width and feature brass rivets and have no keeper. The Dark Brown and Whiskey belts are vegetable tanned saddle leather, 1.5 inches in width and hand-sewn with a floating keeper. The Whiskey belt is 8.5 oz. saddle leather and the Dark Brown is 10 oz. saddle leather. All belts are individually crafted in Connecticut and are available in sizes described below.
Just
$100.00
INCLUDING shipping and handling
UPS ground shipping, addresses in USA, excluding AK and HI
The History:
College in the early 1970's meant studying, meeting people, and experiencing life with the hippie generation. Peace was THE goal of the era. A talented leather-working friend crafted for me a fine leather belt with a heavy brass buckle in the shape of a peace sign. Over the decades, that belt has stood the test of time and is in perfect shape today. My daughter, about to head off to college, asked to inherit My Peace Belt, and off to college the belt went again. Peace never goes out of style.
In a quest to find a replacement for My Peace Belt, extensive searches yielded no buckle of similar quality. The idea was born to re-create a buckle from the original. The talented folks at Mystic River Foundry LLC were willing and able and after months of work, the buckles are perfect. Connecticut leatherworkers have handcrafted the belts and the finished product is My Peace Belt.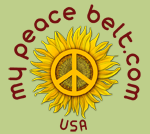 Purchase and Order Information
My Peace Belts are available in unisex sizes. To measure for the proper belt length, feed a tape measure through your favorite jeans or pants. Order the belt size that matches the measurement.
The size of My Peace Belt is the measurement from the buckle prong to the middle hole of the belt. You will have two holes on each side of the center hole to accommodate your pants/jeans that are worn at different heights on your hips/waist.
All belts are available in sizes 30" to 44" (even sizes only)
Lengths below 30" are special order (no extra charge); lengths over 44" are special order at an extra $10.00 charge. All belts feature five holes so that My Peace Belt will fit a variety of your jeans/pants. Special orders may take extra time to ship.
Our inventory fluctuates month to month, so please send us a quick email with your request before placing your order. We will respond within 48 hours
We now use our Etsy Store for all ordering, so please head over to
www.etsy.com/shop/MyPeaceBelt
see all of our options and sizes. We ship to anywhere in the U.S. and worldwide. Using Etsy makes it easy to estimate shipping costs for you and is a more secure venue for purchasing online. Our customer's security of their personal information is of utmost importance to us, and we want every customer to feel safe purchasing from My Peace Belt online.